A vampire Fleshjack that doesn't bite or suck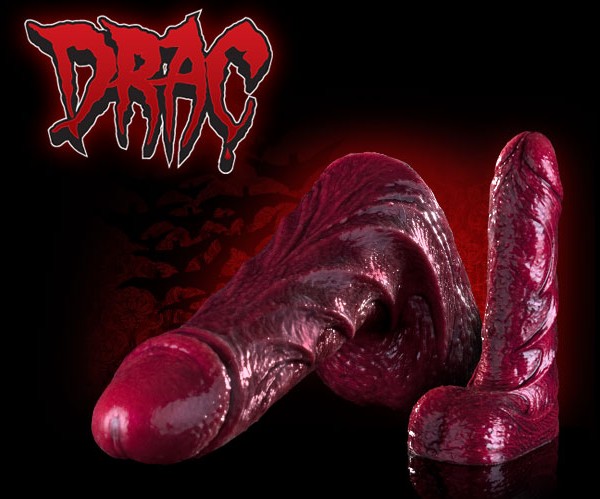 Free Drac with Fleshjack purchase
Plus save 15% off site-wide at Fleshjack. This deal is buried below our review but we're Fleshjack pimps so we don't want you to miss out. Fleshjack is giving the Drac dildo away free with your Fleshjack purchase as a bit of a halloween promotion (Oct 2012). Visit Fleshjack
---
I can only assume that Halloween is around the corner and as they did two years ago, Fleshjack has some new products in advance. This time it's a series of monster inspired dildos, including the Drac which is clearly meant to be a vampire dick. The marketing copy obviously backs this up… "it's your turn to get staked by the blood sucking nightwalker. Made with healthcare-grade, platinum cured silicone in extreme detail by Fleshlight. You can now have what the realm of the living has been missing for centuries."
I have to admit, aside from my vampire fetish, the Drac is the least offensive of the collection. The Frankenstein and Zombie just seem creepy and the Alien looks more like a Fleshjack case. But is this really what a vampire cock would look like? (Vampires, please let me know). What I also find odd is the warning message on the Fleshjack site (at least the European site), 'Dildo is intended for external use only.' Compare that to the specs:
Length from base to tip: 6.75″ including balls, Insertable length: 5.75″ excluding balls, Circumference of shaft: 5.5″
If the Drac is for external use only, what does it matter what the 'insertable' length would be? My imagination might be overactive, but I can think of a use for Drac that doesn't involve inserting it in at least two places. Maybe it can be covered in chocolate or a blood-substitute (raspberry sauce) and licked clean? Another thing that bothers me; Drac is being promoted as a Fleshlight product… the straight range. How many straight men buy dildos? Maybe there's a confused geek market out there.
So if you're feeling adventurous, go grab your own Drac at Fleshjack… or better yet, for a limited-time (eg, one with no deadline so far, which could mean soon), Fleshjack is offering 15% off everything site-wide. Go grab a plain ol' Fleshjack or the Count Cockula I reviewed before and enjoyed.
If you want to get the latest Fleshjack sale or promotion, check out our friends at Hot Gay Deals for the most up-to-date Fleshjack sales and coupon codes.