Lost Boys 3: The thirst left me thirsting for more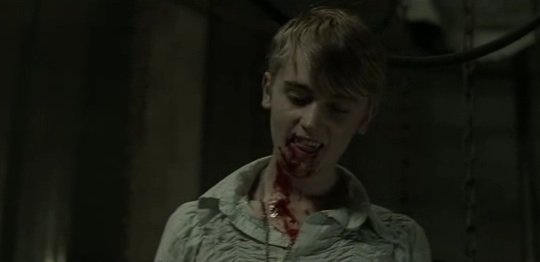 Lost Boys: The Thirst (aka Lost Boys 3) the direct to DVD/iTunes download vampire movie has extended and concluded the Lost Boys franchise once more. Including both original Frog brothers and flashbacks from the original film, The Thirst is too short at 1 hour and 21 minutes, and it's just not as good as the original… but that's was going to be obvious. Actually it's not even as good as the second installment. For some reason the filmmakers deviated from the vampire fangs and contacts used in Lost Boys: The Tribe, which were already different from the original film, but given the long gap between the first and second film that was understandable. Vampires in The Thirst appear to have developed gum disease along with far more sharpened teeth then is necessary.
I had hoped that the cute blond from the trailer made an appearance in the film as a vampire, and sure enough without spoiling the plot (the filmmakers already did a thorough job doing just that), the boy in question Peter (played by Felix Mosse) does get fangs and he's mighty hot as a vampire. The premise was great, a DJ throws huge raves and gives out a new "drug" which is vampire blood. He's building a massive army of vampires. The author of popular vampire fiction comes to Edgar Frog to have him rescue her brother Peter from the DJ before a blood moon sacrifice rave. There's a twist in the plot towards the end then Edgar saves the day again but in doing so commits vampire genocide using what I think was a cheap trick.
See it for yourself: from iTunes or grab from Amazon.com