You can be the star in your own vampire novel
October 29, 2011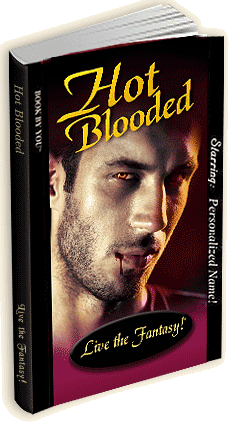 I've discovered a new book available through Books By You, Hot Blooded. And after a lot of web searching, Hot Blooded appears to be the only gay vampire novel where you write yourself (or your boyfriend) into the plot. From their website you enter all your characteristics and name, and Books By You ships you a customized one-of-a-kind novel. The story is adopted from the straight version (which was also toned down for teens).
Hot Blooded centers around a chance meeting between a college professor and a mysterious stranger (the vampire). There's an instant attraction catches them both by surprise, but the heated moment is short-lived when the stranger vanishes. Along with his 'crazy gal pal', our professor attempts to find the stranger, discovering who and what he is. Neither can stay apart, no matter how dangerous it becomes.
The idea of customized books has been around for a while, increased with on-demand printing. But there are few gay novels, and even fewer featuring a gay vampire, while still being 'reasonably' priced. You can get your own personalized copy of Hot Blooded at Books By You.
But this has given me an idea… more to come, hopefully for Halloween!