Trio of vampire films shows Irish cinema can deliver unique ideas
The recently released Let the Wrong One in joins a growing list of Irish vampire films that are defining a new path for the genre. In the last few years filmmakers in Ireland have created three varied approaches showing creative originality and quality within small budgets.
Killers Within, Boys from County Hell and Let the Wrong One in are also all uniquely Irish, break the typical tropes and show Irish cinema can subvert over-used ideas. While each movie includes some comedic elements, only Let the Wrong One in is pure comedy, with Killers Within and Boys from County Hell leaning more toward horror.
Curiously all three movies took an extra year from their premieres to being available outside film festivals (and to become available on streamers).
Let the Wrong One in (2021)
The latest in the trio, the comedy dropped recently for on demand rental & purchase. On a night out, Deco finds himself bitten and turning into a vampire. He pops by his ma's house (where he's not welcome), hoping his brother Matt will let him in and away from the burning sunlight. Deco has been a disappointment over the years, and Matt doesn't know if he should help his older brother one more time, especially when Deco is getting hungry. What Matt soon discovers is a growing community of vampires taking over Dublin, and he must decide just who to stop, his brother or all the other vampires.
While the film falls back on familiar tropes, the Irish wit and jokes delivers a uniquely Irish spin that's both fun and over-the-top gore. One nice surprise comes with the vampire hunter character Henry is played by Anthony Stewart Head (of Buffy The Vampire fame).
Rent or buy on Apple TV, Amazon Prime, or Google Play
Boys from County Hell (2020)
Playing off Bram Stoker's Irish origins, Boys from County Hell delivers an new and unique twist on the vampire genre. Without giving away spoilers, road construction unleashes an ancient vampire on a small Irish village, but it's not necessarily the vampire turning some townsfolk, and how the vampire feeds is different as well. Before the villagers are drained, our hero Eugene (played by Jack Rowan) has to stop the creature and return him to a grave.
The new take on an old legend delivers a sometimes funny but thrilling horror that avoids old traps. The filmmaker taps local Irish folklore where most films have gone for Eastern Europe legends.
Stream Boys from County Hell on Shudder
Killers Within (2019)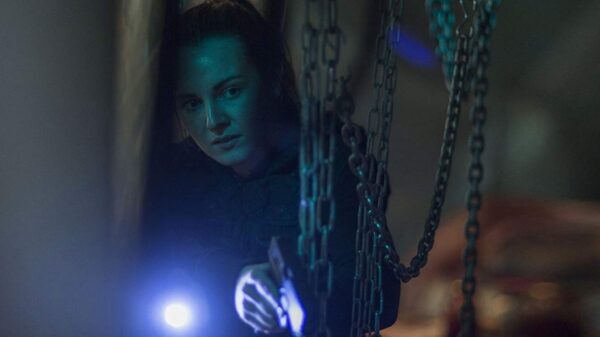 Needing to pay Russian gangsters random to get her son back, police officer Amanda turns to her ex-husband, brothers and other allies to hold a rich banker hostage, only things don't go as planned for and the bodies start pilling up. Who will make it out alive, and will any 'vampires' survive?
Killers Within weaves a different take on the vampire origin tale, though borrowing from the vampires-are-snake-like-creatures sub-genre. Overall it's an inventive and compelling plot that will keep you guessing right up to the end credits.
Watch Killers Within on Peacock (in the US)