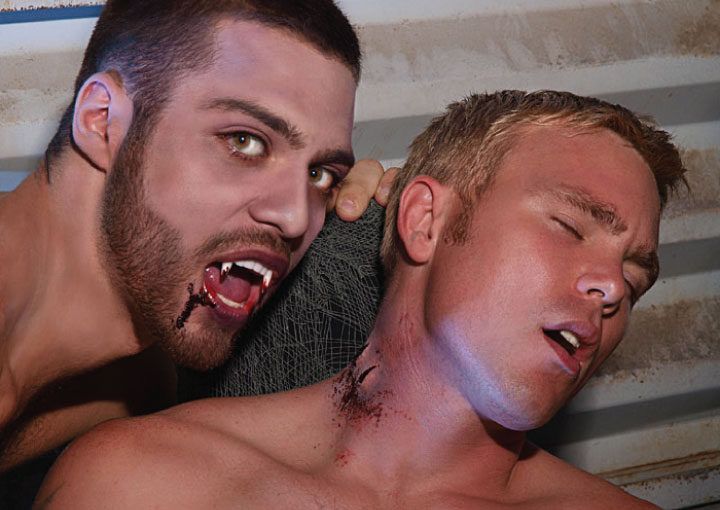 Four years ago I was bitten
October 26, 2013
It's now been four whole years since I first received my Count Cockula sex in a can Fleshjack. Back then I had just complained that we were experiencing a gay vampire drought, but then the drought ended and it seemed for a few years that we were spoiled for choice with gay vampire films, books and even it seemed, toys!
A few years ago Fleshjack released the Freaks line of dildos including the Drac. While the Drac does look cool, I've not been in a rush to grab one and take it for a test drive. I am hoping to get a few kindly sent over by Fleshjack but I don't plan on testing or reviewing the Drac, instead I'll be giving them away. More on that to come as Halloween closes in.
So about being bitten. Until I'd played with my Cockula I hadn't used a Fleshjack before. It's a pretty cool toy and I really do beat off the drum telling my readers about that (sorry) just as I have strong opinions about what movies to watch and what fangs to get. Over the last four years, and it's amazing how well it has survived, I've used my Cockula solo and more often with the boyfriend. It's a lot of fun and helps add to the fantasy. Since the opening is the soft flesh-like plastic with the fangs moulded in but not extending out, you don't get the same feeling as say someone with fangs going down, but that's only minor compared to the feeling once you're inside the Fleshjack.
I'm ranting on about the Cockula because that autumn was one of the best times for gay vampires, but I'm not lamenting a better past. Back in 2009 this site was also a bit rough with only a few lists of books and movies to watch. We'd had a few years of the Lair and True Blood was just getting started. Twilight was in theatres and Twinklight was still a twink in someone's eye. I think 2009 was the year Gay Male Vampire really took off and it's amazing to look back on four years of articles and gay vampire news. There are always going to be droughts, as well as floods. I'm sure these things trend naturally and in predictable patterns, if only I knew the secret formula. It may feel that with Twinklight gone, and not much else on the gay vampire horizon that things are bad, but in four years we've had so much it's worth looking back at the best bits. Also, The Originals isn't looking that bad (certainly an improvement over The Vampire Diaries).
Halloween is always a special time of the year, but living in London I find the British and Europeans don't quite put in the same effort. The holiday gets celebrated by vampires but they gather at other times of the year. When you're into fangs it's not for one day a year. In four years I have not found any fun Halloween party to attend with a few disappointing nights out. This year I've finally found, thanks to some smart club promoters, the perfect gay vampire party, just two days post Halloween.
More to explore
Read the original Count Cockula review
Visit Fleshjack and check out Cockula for yourself
(If you want to get the latest Fleshjack sale or promotion, check out our friends at Hot Gay Deals for the most up-to-date Fleshjack sales and coupon codes.)