Kissing Darkness crowd funds the next gay vampire film
April 12, 2013
With the rise of Kickstarter, allowing crowd funding for almost everything, it has crossed my mind to become a film maker and create a good gay vampire film (I just don't know any willing local actors). So somehow I missed the funding drive for Kissing Darkness last summer. I would have happily backed the project knowing I'd be helping a gay vampire film get made. While it didn't reach its goal, Kissing Darkness has been made and is now in post-production.
From the creative mind of James Townsend and director Steven Vasquez (who also director Vampire Boys 2), the film follows a group of college boys who decide to escape LA Pride weekend by going into the woods on a camping trip. But these are no faeries off in the bush. Leaving LA because they were bored with the gay scene, the boys discover the woods can be just as boring, so they begin a "game that ultimately unleashes the vengeful spirit of a local legend known as Malice Valeria". The boys must fight her deadly plan for revenge, banding together before they "fall victim to the poisons of a broken heart".
The plot summary lacks any reference to it being a vampire film and there was only one photo from the shoot showing a fang, so it seems the film makers are keeping a lot to themselves. However we do know who's it it, including one Sean Paul Lockhart (he also goes by the name Brent Corrigan), plus several hot college-aged boys Ronnie Kroell, Kyle Blitch, Daniel Berilla, Nick Airus, Griffin Marc, James Townsend, Kyan Loredo, Roger Duplease.
So far there's no release date, but it possible the film is being prepared for the upcoming festival season (although missing the London festival).
Behind the scenes: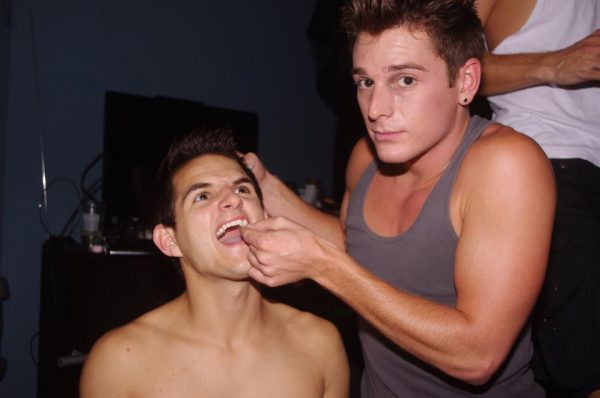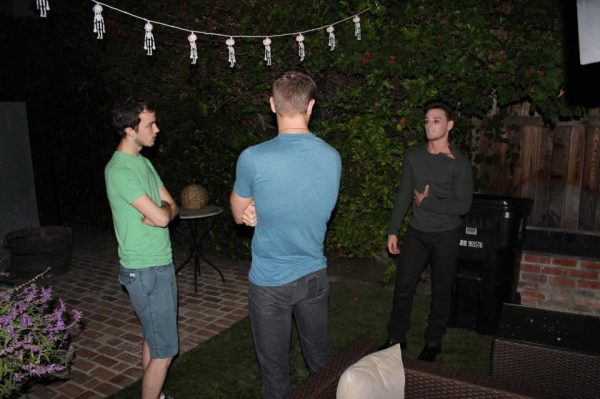 At a Halloween party promoting the film:

Sean Paul Lockhart last halloween dressed as a vampire (though without fangs) in stunning DSquared2 leather pants (this is very hot… and I'm jealous of those $2000 pants).

Kissing Darkness actors at Halloween party