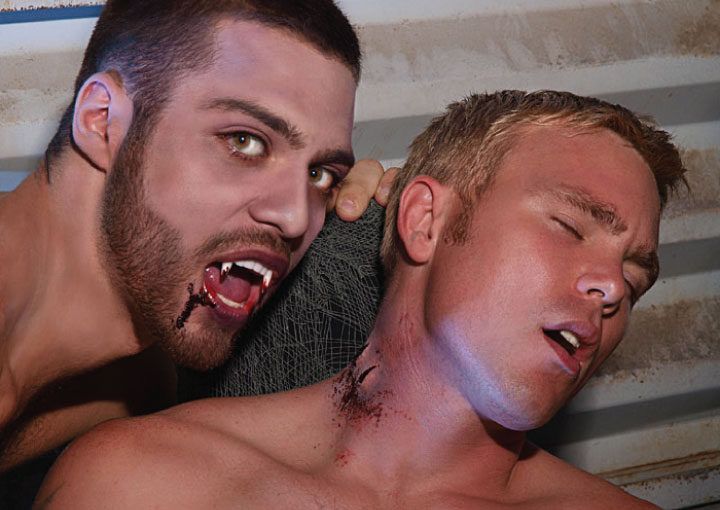 Review: Count Cockula
Damn, now I'm feeling the pressure to perform. I have to admit that I've never before used a Fleshlight or Fleshjack product but I have managed to procure and evaluate the Count Cockula Sex in a Can, so my review is basically about Cockula with no previous experience with any Fleshjack product.
Oh, if you haven't already, checkout the new webpage for the Cockula with a special video with newcomer Bobby Rail, here.
Well if that distraction didn't work then you are here to stay and hear about me review Cockula. To put it simply, it's an amazing product. I'd heard from friends how good the Fleshjack was but I hadn't bothered to try it out. However, with or without your boyfriend, Cockula is a lot of fun. First off, the fangs lining the inner canal should not put you off; they help, maybe too well, but really, they help. Actually, I think they work really well, better than say a slick textureless canal.
The material that makes up the sleeve of any Fleshjack does all the work and does it well. I quite enjoyed myself, more than I would have without it, on my own.
But I'll admit, there was definitively something exciting about using Cockula and the thought of a fanged mouth engulfing me. Really, it's one fantasy I'm trying to resolve (wink, wink, vampires email me). Cockula extended and heightened a normal evening. I will certainly use it again. Would I buy another Fleshjack product now that I know it "works" (ie, got me off)? Ye-ah! There is a reason so many of these things sold, and sometimes you need more than your own hand, trust me.
Worth the money, yes. If you can, get one today… here. (sorry if I'm being a pusher, but it's a cool product.)
Serious… more to come when I catch my breath and try this again.
(If you want to get the latest Fleshjack sale or promotion, check out our friends at Hot Gay Deals for the most up-to-date Fleshjack sales and coupon codes.)