Rising from vampire sleep
February 15, 2020
Two years have passed since my last article, but in those quiet days you vampires have continued to visit this site. This has warmed my dead heart and awoken me from my deep vampiric slumber.
There has been so little news to share with gay vampires as the draught continues. I have kept an eye out for new things to share but it has been quiet. And yet I did finally attend my first New Orleans Vampire Ball, so while I may not have much focus of the site, I am still a vampire!
Many of you have left comments with tips on new videos now available, so thank you! There is often an annual Halloween timed video that comes out of the coffin, and last year was no exception. In the past I've spend much time in later October searching for these new videos, but I sometimes do not find them until months later.
I previous shared the French gay vampire film Suckers, which now has a sequel, known as Blood Brothers (the Suckers Chronicles) and just Suckers. Two of the scenes from Suckers 2 can be streamed on Young Bastards, or the whole video with 4 scenes can be watched online on tla.
These two scenes do sound amazing, and I'm looking forward to getting a copy of the whole movie soon for a proper review.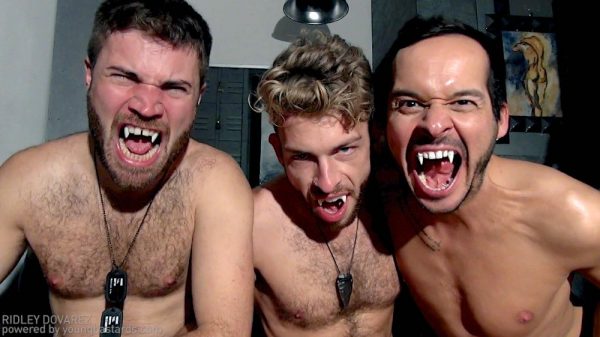 Rising again
Gay Male Vampire launched over 13 years ago well before the last wave of vampire popularity. There was so little content back then, only a few books and tired old videos. I had found the two Bite films, and most importantly The Vampire of Budapest. I found many terrible videos back then too. We were lucky to have had an explosion of vampire books, films and adult videos. All these years later I still watch clips from Twinklight.
So much has been written and shared over the years and I want to revisit some of the gems from years past. Back in the day I interviewed the star of Twinkblood, and was interviewed myself for Unzipped magazine. There were a few reasons why I created this site—to help share gay vampire news & resources, to find vampiric love, and to help people avoid wasting their money on crap! It was probably the purchase of Dracula Sucks Hollywood Dudes that really pissed me off the most.
Over the next few weeks I plan to refresh the articles and the design. I do hope to once again expand the coverage to include more things vampire. For starters I want to revisit the cult classic film The Lost Boys—it remains my number one vampire film. The original film was making news recently, possibly related to news that the CW will try once again to make a pilot of the remake series. With any luck, Sam will be out in this version, the vampires won't be slaughtered and there is no old Max head vampire!
A lot of the lists here need updating, even if there's no much to add. I continue to welcome any comments and tips with useful links or suggestions!
– Sebastien