Two more additions to Twinklight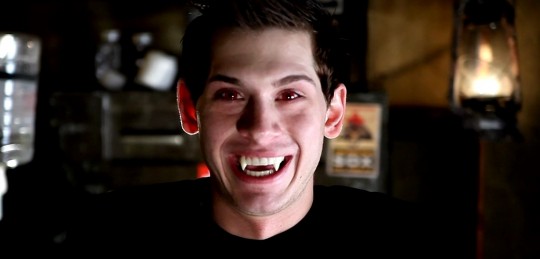 For those not already subscribed to Twinklight.tv, you won't know that two more videos have been added to the extras—an interview with the ever hot and incredibly-sexy-as-a-vampire Jayden Ellis (who plays Egan), and an extended scene between Rad Matthews and Levon Meeks. The extended scene is extended but I preferred the opening of the original scene because the back and forth dialogue between the two actors was a better edit with more close ups of Rad. I loved the interview with Jayden, and it was sexy seeing him speaking with his fangs. Another video with cast interviews and a blooper video will be added this coming week, followed I expect because I was told, by the start of additional episodes. I'll let you know when the new content is going live if you happen to be waiting to join once it's up.
The interview with Jayden Ellis
The director of Twinklight, Afton Nills, steals Jayden Ellis (Egan) away from filming for a moment to ask him about the rest of the Twinklight cast. Jayden's opinion of Krys Perez (Edmund) is brought up, whom he says is "definitely my type". They also get to chatting about his most "gay" experience ever, and about people's misconstrued ideas of the porn industry.
The extended scene between a vampire and straight boy Elijah
In this hot extended scene a Vampire (Rad Matthews) has Elijah (Levon Meeks) tied up in his Vampire lair. He wastes no time plunging his fangs into the boys neck, devouring his blood with dark intensity. Elijah is more than happy to oblige after this fateful encounter and a sexy, bloody blowjob follows. It isn't long before the vampire holds Elijah's hands behind his back and thrusts into him deeply.