Endless night vampire balls
March 5, 2012
I recently came across the Endless Night Vampire Ball event. I'd heard there was this event in Paris and after missing yet another Sodom Vampire Ball, I was eager to get out of the coffin. Endless Night holds several events throughout the year in Paris, New York, Prague and with what they bill as their biggest event, Halloween in New Orleans, all promoted by Father Sebastiaan (no relation). Father Sebastiaan is also an experienced fangsmith who crafts high-quality fangs of various styles. I need new fangs, so this gives me another excuse to head to the continent.
I'm quite curious about this event. Has anyone attending any of the Endless Night balls? Have any thoughts to share with your fellow readers?
The key to every Vampire Ball is the effort party-goers put in as they are formal masquerade balls. These are special events for children of the night to come together and party. Now of course these are straight events, but I can't imagine these outcasts looking down their noses at gay vampires. The promoters have a strict dress code requirement and if you are not dressed right, you will be turned away without refund. Everyone including crew, photographers and the press are all expected to come in appropriate dress, but with fangs and masks highly encouraged. Here is the list of motifs the organizers offer: Venetian Masque Carnivale, Steampunk, Cosplay, Latex, Gothic, Napoleonic, Horror, Medical, Mad Scientist, Fairy Tales, Zombies, Post-Apocalyptic, Cyberpunk, Drag, Angelic / Demonic, Opera / Black Tie, Moulin Rouge, Boudoir, Victorian, Medieval, Burlesque, Rocktar, Baroque, Witch, Pagan, Norse, Ancient Egyptian, Uniforms, Sci Fi, Fantasy or Formal Western. That should give someone a lot to work from, mix and match or be inspired by. And while there are a lot of styles above, these are mostly authentic looks which would suggest no cheap capes.
The right look: taking a look at the inspiration, I actually feel my normal look might not cut it. I don't normally go for the victorian or the Interview with the Vampire look, leaning toward something more modern with a slight edge. The leather trousers and a leather jacket would ensemble would need something extra, mainly to show that little bit of effort the promoters call for. So I happened to come across a rather striking outfit at my favorite leather retailer, one I might not normally consider until now. But this look is certainly unique and appropriate, especially with the proper accessories. It also helps that the model wearing this jacket is quite hot. Though as you can see (I dare you to click through) the jacket is one expensive item. This jacket would make the look absolutely perfect, but there's probably something a bit more practical if not within reach. And maybe with a little bit of makeup, and certainly the right fangs, this look can be carried.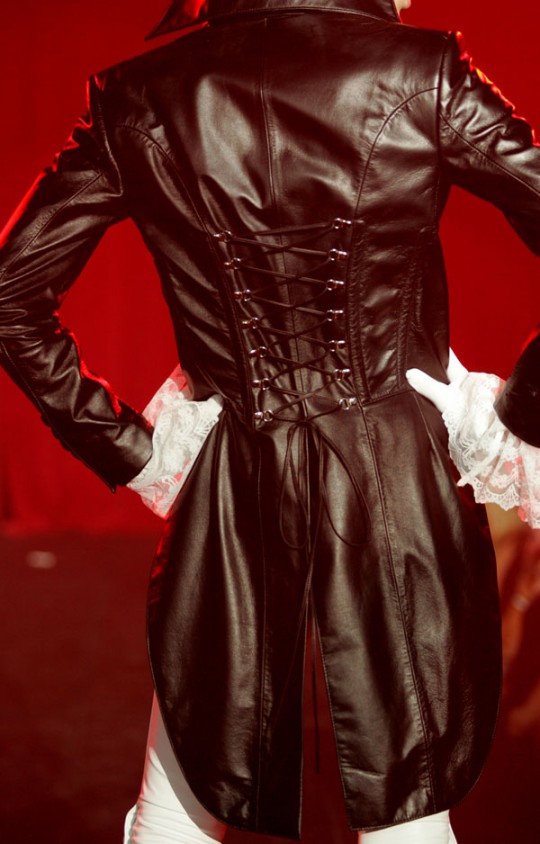 Fangs: if you are lucky enough to be near one of Father Sebastiaan's event, you can get yourself in line for some custom fitted fangs which range from $99 (€99) to £399 (€399). The styles include your classic or fierce classics (longer) elongated canines, lilith (the outer incisors), Lost Boys (two pairs/4 teeth, incisors and canines), or Interview (outer incisors, canines and first pre-molars). There's even an option if you want some lower fangs as well as your canines and incisors. Basically the more sharp teeth you want, the more it'll cost.