Vampires finally returning to fall tv schedule
Interview with the Vampire won't be the only vampire series to come out this fall, although Interview will be the gayest of the batch. There are a total of four new vampire shows dropping in the next two months. Only last year there was just a single vampire series with the now cancelled Legacies, but this fall shows vampires are still popular. And it helps that there is plenty of material available to film.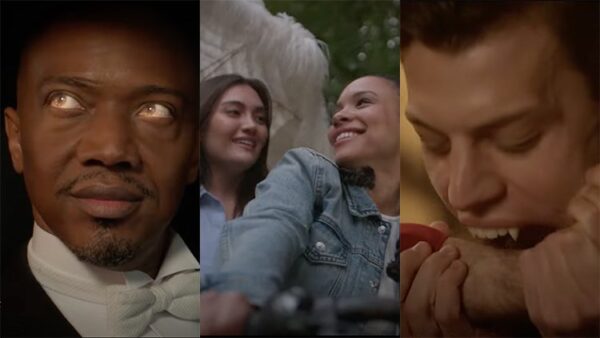 Before Interview begins airing (and streaming) on AMC, the new Vampire Academy series will attempt to build a franchise after the film version failed. Helmed by Julie Plec (previously of Vampire Diaries, The Originals and Legacies) and Marguerite MacIntyre (writer, director and Mystic Falls Sheriff Forbes), the series will run on the Peacock streaming service. The 10 episode season will premiere September 15 with the first four parts before continuing on a weekly schedule until Halloween.
While the Vampire Diaries universe was filled with some dramatic storylines and solid characters, the shows always seemed to fall short on giving us gay content. Here's hoping we get some hot guys with fangs… and a few gay students in the mix.
October will see the remaining three shows starting with Interview on October 2. Reginald the Vampire will premiere October 5, bringing the 'Fat Vampire' books to this SyFy series starting Jacob Batalon (Ned from the latest Spider-man films). Reginald becomes a vampire in a world of fit, beautiful and vain immortals, and some vamps aren't happy with his transformation. The first season will include 10 episodes
Finally after Reginald becomes a vampire, we will be treated to a new Let the Right One in series launching on October 7 (online, and October 9 on the network). The Showtime series will again tell the tale of child vampire Eli (Eleanor) and her father who manages to keep her fed with human blood. And of course the bullied neighbour boy who befriends the little vampire. The first season will also include 10 episodes for the first season, allowing a longer run to reinterpret the original Swedish novel and film.