Gay vampire adult film reviews and official ranking
July 25, 2010
Gay vampire adult films have improved tremendously over the last 20 or more years. There are some classics, Night Boys and Sons of Satan from the very early days, plenty from the eighties and nineties from the video tape era to the latest crop of higher-quality digital films. There are reviews throughout this site for most of these films with greater detail and a breakdown of the individual rating categories, but here is a near-complete list ranked in order of best to worst.
Update: August 2015
The last time this list was updated was in November 2012 after the release of Twinkula, a film worth missing. In almost three years no new gay vampire adult films have been released (despite our pleas to BelAmi to create their first gay vampire film). We are quite truly in a dark age of gay vampire films.
1. Twinklight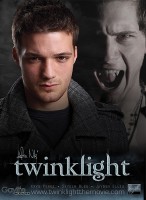 Now easily the best gay vampire adult film ever made, and while anyone not into twinks would disagree, Twinklight has simply elevated the genre to a new level. Twinklight proves that adult films can have a storyline, be beautiful produced and shot, and have amazing vampires. The biting scenes are brilliant and there are more vampires at the end of the film. And the story is not complete, with the online version to feature additional "episodes".
Rating: 4.5/5 | Recommended | Read full review | View online / Buy DVD
2. Twinkblood
When it was released in October 2009, Twinkblood easily become a top ranking gay vampire film. While one scene suffers from overly bright industrial lighting, the storyline, cute cast, fantastic vampire effects and delicious sex make Twinkblood still one of the best. Unlike previous films, Twinkblood delivers a satisfying ending without the need to have the vampires be killed or find redemption. And yes, the top to films both feature twinks, and their rating has less to do with personal tastes and more to do with these being the best gay vampire films.
Rating: 4.5/5 | Recommended | Read full review | View online / Buy DVD
3. Thirst
Rod Berry stars twice in this vampire and psycho-killer film — he plays a vampire and his twin brother the evil doctor. The film starts with two hustlers being picked up in a hearse and brought back to the Doctor's house, but not before having sex in the hearse. There are several sex scenes but the best took place after one of the hustlers was bitten by vampire Rod. A shirtless grave-digger takes a break for some sex with the chauffeur when the bitten hustler emerges from the coffin unseen by the grave-digger. He joins in the later takes the hunk back to his coffin for a snack. Only vampire Rod appears with fangs which was a slight disappointment because the hustler made a better vamp.
Rating: 3.5/5 | Recommended | Read full review | Where to view online / buy
4. Night of the Gay Vampire
Hot young vampires turning straight dudes gay with every bite, you will find yourself wrapped up in its storyline as well as its 4 scenes, including two 4-way orgies, suck, jerking, hot ass play and of course biting.
Rating: 3.5/5 | Recommended | Read full review | Watch it online
5. Suck this
As a Halloween treat Nextdoor Studios made one of its' usual updates vampire themed. Suck This is short, just one scene, but it's also a good one and an excellent example of fangs and biting. Plus both guys are hot as vampires. Unfortunately you need to subscribe to Nextdoor to view it, but a trial membership will get you in and out with the video.
Rating: 3.5/5 | Recommended | Watch it online at Nextdoor Buddies
6. Vampiros
For a short while it seemed that Brazil would be producing a lot of gay vampire films but the run ended with Vampiros. Featuring a large orgy climax, there seems to be little plot, but the hot Brazilian boys (especially the ones who are vampires) made up for it. There are a few biting scenes towards the beginning, however the orgy at the end lacks the same vampire focus. Slightly annoying a few of the actors looked off camera or into the camera during the film, and the online version seemed incomplete, but that might be just a hope for more of the plot.
Rating: 3/5 | Recommended | Read full review | Where to view online / buy
7. A Taste of Blue
Randy Blue made a special vampire themed adult video starting Cody Fallon and Blake Riley with Chris Rockway as the vampire. There is some post-coital fang action at the end and there was potential for a second video but none has materialized. The fangs are good, but the red eyes could have been done better. The video is short and only accessible on the Randy Blue website.
Rating: 3/5 | Recommended | Read full review | Where to view online / buy
8. The Bite 2
The sequel to The Bite, this second film had more of a storyline than the first and yet the only connection to the first film is the vampire theme. The Bite 2 opens with two separate sex scenes featuring a pair of vampire brothers who take a bite into their partners after climax. The film then attempts to have a plot with the brothers being reunited with their sister for the reading of their mother's will. It doesn't end well. A subplot features a few vampires creating a little carnage in a dance club.
Rating: 3/5 | Recommended | Read full review | Where to view online / buy
9. Vampire of Budapest
A classic among gay vampire films, Vampire of Budapest was a turning point for gay vampires, but compared to newer films it has many faults. The fangs were never that good, the vampire not that attractive, but there was one good biting scene after two guys stumbled into the vampire's lair and succumbed to his sexual powers. The film is not in English and there are no subtitles, but who would subtitle porn.
Rating: 3/5 | Recommended | Read full review | View online / Buy DVD
10. Sex among friends 2: and the vampire
A vampire rounds off a three-way, making for a good scene featuring three hunky Brazilian boys. The vampire was good looking and his eyes were great. The fangs, when they appeared, could have been better, and the bites were really short. One guy being bitten appears to be screaming in pain, but silently. Unless the DVD contains more scenes, the only scene worth watching is the first, so view just the first scene online.
Rating: 3/5 | Recommended online only | Read full review | Watch Sex Among Friends and the vampire online
11. The Bite
I had a lot of hope for The Bite, and the longer it took to find the better I expected the film to be. As with a lot of online films it feels like some scenes have been cut down to focus on the sex. The online version of The Bite did not match the description or reviews and I was expecting to see more boys become vampires throughout the film—according to the DVD it's 90 minutes long but the online version is 70 minutes. Either these scenes were cut or didn't exist. It's an old video so the quality is low, but the scenes are still good, especially the scene 1 and 5. When the DVD is finally reviewed, the rating may change.
Rating: 2.5/5 | Recommended | Read full review | Where to view online / buy
12. Breeding Spooks
Despite the poor quality of the film and some of the actors being not my type, there are a few good vampire scenes especially in the final climax when a young man awakes from a sex dream with a vampire to find he's a vampire and not only hungry, but there's his boyfriend lying waiting next to him.
Rating: 3/5 | Recommended
Not recommended
We now descend into the list of gay vampire adult films basically not worth the money to see. And so in no particular order…
Laid by a vampire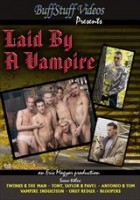 The sequel to Queer of the damned, Laid by a vampire was an improvement, but not by much. Two of the vampire boys remain from the first film and they do a relatively good acting job but without fangs they don't pull it off completely. There's one good biting scene on a pool table.
Rating: 2/5 | Not recommended | Read full review | Where to view online / buy
Queer of the damned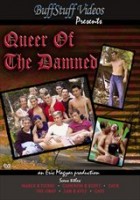 Queer of the damned had so much potential but it was lost quickly. An entire resort of twinks are quickly turned into vampires, but none of them have fangs. The description even invites you to "let these jock vampires take a bite out of you" but without fangs it would be hard, and it was even harder the way the victims kept moving about.
Rating: 1/5 | Not recommended | Read full review | Where to view online / buy
Bite This
Probably the worst gay vampire porn made, that we're at least seen so far. There's a fake vamp towards the beginning while the porn plays out, then the real vampire makes an appearance, but we only know he's a vamp from his cape; he's also naked, but nothing to write home about. Finally near the end, the vampire appears, as if from a dream, to bite one boy. A little later the victim wakes with a bite mark and some pretty bad fangs (the really cheap one-piece fangs), so at least a vampire is created.
Rating: 1/5 | Not recommended | Read full review
Night Boys
"Vampires have long been known to have an irresistible sexual power over their chosen victims. Count Vladimir's valet is compelled to lure young men into the mausoleum, where the Count takes them into torrid heights of ecstasy!" But that wasn't the film I watched.
Rating: 1/5 | Not recommended | Where to view online / buy
Sons of Satan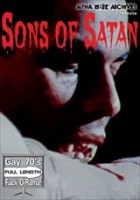 Another terrible film, Sons of Satan was shot in the days of film so it's really old. It does have an almost hammer-horror quality to it, but no decent vampires can be recalled. The film barely lives up to it's description.
Rating: 1/5 | Not recommended | Where to view online / buy
Bitten is simply disappointing; the vampire appears only in poorly lit scene and there just wasn't enough bitting. But maybe there's still hope for a better sequel.
Rating: 2.5/5 | Not recommended
Despite the solid acting and high production values, HIS Dracula was disappointing; some of the fault could lie with the original Dracula story, but not all.
Rating: 2/5 | Not recommended
There's not much vampire action throughout the film but in the last scene a young man is turned, except even with biting there are no fangs which even worser made films have made the effort to include.
Rating: 2/5 | Not recommended
Like Bitten, Twinkula suggests a film with a strong vampire focus but fails to deliver. Fang and bite quality is low, there's only the one vampire and no new ones are created, plus most biting action is weak or happens off camera.
Rating: 2/5 | Not recommended
Missing from the list
Vampire Boys, the original adult film, is not on the list because no one at Gay Male Vampire has had a chance to see it and it's pretty hard to get.